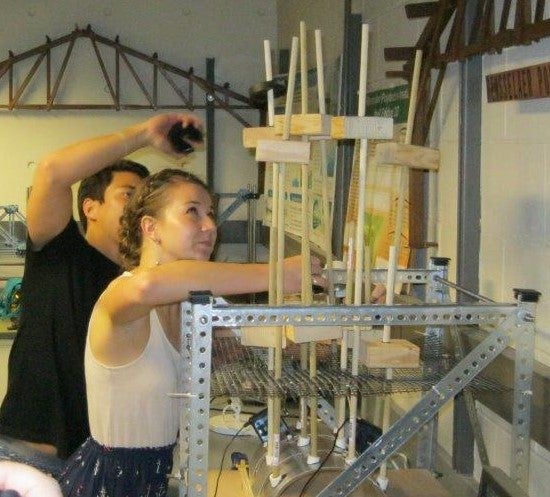 Educational Objectives
Rensselaer's Civil Engineering and Environmental Engineering programs are both designed to prepare students for continuous learning and successful careers in industry, government, academia, and consulting.
Within a few years of graduation, Bachelor of Science graduates in both programs are expected to:
Contribute to the field of Civil Engineering as professionals engaged in problem-solving, design, and discovery through the responsible and ethical application and development of technology.
Further develop leadership skills by accepting increasing levels of responsibility in engineering practice, communicating in professional and civic forums, and progressing toward professional licensure.
Continue to develop both professionally and personally through graduate study, participation in professional societies, continuing education, and service to the community.
The Civil Engineering and Environmental Engineering degree programs at Rensselaer are each independently accredited by the Engineering Accreditation Commission of ABET.
Student Outcomes
Students who successfully complete the respective curricula of the Civil Engineering and Environmental Engineering programs will be able to demonstrate an ability to:
Identify, formulate, and solve complex engineering problems by applying principles of engineering, science, and mathematics

Apply engineering design to produce solutions that meet specified needs with consideration of public health, safety, and welfare, as well as global, cultural, social, environmental, and economic factors

Communicate effectively with a range of audiences

Recognize ethical and professional responsibilities in engineering situations and make informed judgments, which must consider the impact of engineering solutions in global, economic, environmental, and societal contexts

Function effectively on a team whose members together provide leadership, create a collaborative and inclusive environment, establish goals, plan tasks, and meet objectives

Develop and conduct appropriate experimentation, analyze and interpret data, and use engineering judgment to draw conclusions

Acquire and apply new knowledge as needed, using appropriate learning strategies.
Enrollment and Graduation Data
Civil Engineering
 
 
Enrollments
Degrees Awarded
Year
 
1
2
3
4
UG Total
Grad Total
Bachelors
Masters
Doctorates
16/17
FT
39
42
39
72
192
21
62
27
3
PT
 
 
 
 
 
 
17/18
FT
50
50
58
43
201
31
52
12
1
PT
 
 
 
 
 
 
18/19
FT
49
47
67
43
217
41
52
16
5
PT
 
 
 
 
 
1
19/20
FT
39
48
67
69
223
49
70
16
3
PT
 
 
 
 
 
 
20/21
FT
54
44
43
74
215
64
62
22
4
PT
 
 
 
 
 
 
21/22
FT
54
39
44
59
196
63
53
23
8
PT
 
 
 
 
 
 
22/23
FT
54
44
43
74
215
64
 
 
 
PT
 
 
 
 
 
 
FT = full time, PT = part time
Environmental Engineering
 
 
Enrollments
Degrees Awarded
Year
 
1
2
3
4
UG Total
Grad Total
Bachelors
Masters
Doctorates
16/17
FT
17
15
15
18
65
4
16
5
1
PT
 
 
 
 
 
 
17/18
FT
29
14
15
15
73
3
17
7
 
PT
 
 
 
 
 
 
18/19
FT
18
19
12
14
63
5
13
2
 
PT
 
 
 
 
 
 
19/20
FT
13
12
15
14
54
3
14
1
1
PT
 
 
 
 
 
 
20/21
FT
19
10
13
15
57
10
12
5
 
PT
 
 
 
 
 
 
21/22
FT
15
12
8
16
51
5
9
 
1
PT
 
 
 
 
 
 
22/23
FT
30
9
7
17
63
10
 
 
 
PT
 
 
 
 
 
 
FT = full time, PT = part time
Curriculum URL
http://catalog.rpi.edu/preview_program.php?catoid=20&poid=4514
Catalog URL
http://catalog.rpi.edu/preview_entity.php?catoid=20&ent_oid=1095&returnto=495
Request Info URL
https://apply-undergrad.rpi.edu/register/information_request
Apply URL
http://admissions.rpi.edu/undergraduate/index.html